The Kpone IPP project was conceived by the Founding Shareholders, a group of Ghanaian entrepreneurs - Samuel Nana Brew-Butler, Dr Jimmy Heymann, Michael Wilson and Kweku Awotwi. In 2003, they incorporated Cenpower Generation Ltd (Cenpower) as a limited liability company and the vehicle for the development of the KIPP project.
The project faced a number of developmental and financial hurdles, largely due to the fact that as Ghana's first greenfield IPP developed on a Project Finance basis, there were no precedents.
Following the completion of initial feasibility studies, including site selection and preliminary engineering and environmental studies, InfraCo (a multi-donor funded project developer) joined the founding shareholders as a project development partner in 2005. Over the ensuing four years, several key development milestones were completed, including detailed engineering studies, social and environmental assessments, as well as negotiations for a Power Purchase Agreement.
The procurement process for an Engineering, Procurement and Construction (EPC) contractor was also initiated in this period.
In 2010, Africa Finance Corporation (AFC) acquired a controlling stake in Cenpower, becoming the project lead developer and lead arranger. AFC joined the founding shareholders and InfraCo, in the continued development and financing of the project. As lead project developer, AFC had overall responsibility for all project activities and the management of the development team, including the selection of the additional Project Sponsors as well as legal, insurance, financial and technical advisors.
In September 2014, InfraCo transferred its interests in Cenpower to Sumitomo Corporation, a Japanese investor company and the Strategic Technical Partner for the project and which formally became the second-largest shareholder of Cenpower Generation Ltd after Africa Finance Corporation.
In December 2017, AFC Equity Investment Limited transferred all shares to its Pan African Power Vehicle, Edison Energy Assets Company. Edison is jointly owned by AFC Equity Investment Limited and Aldwych Holdings Limited with each party holding a 50% shared in Edison.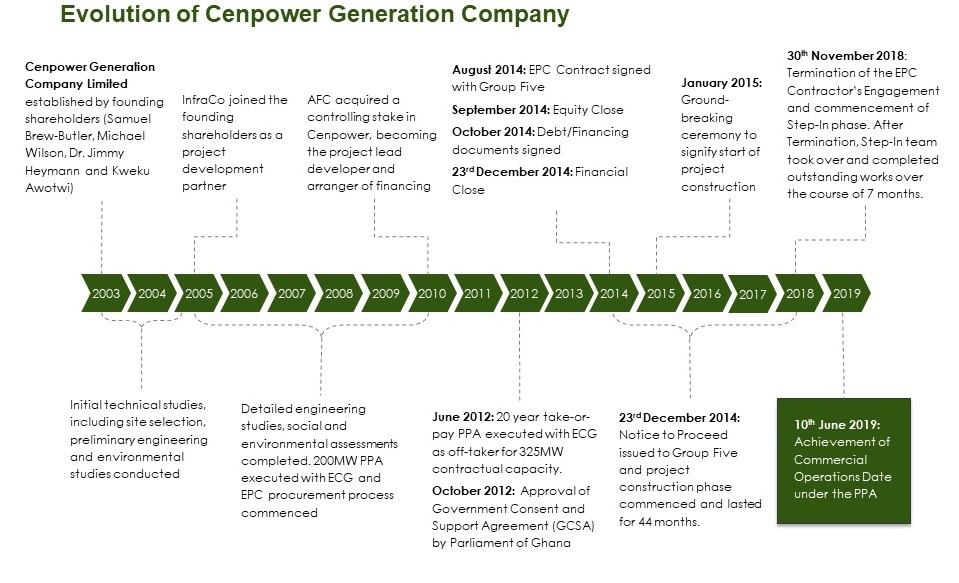 Milestones
June 2012: Power Purchase Agreement (PPA) signed with ECG
August 2014: Engineering, Procurement and Construction (EPC) Contract signed with Group Five
October 2014: Debt/Financing documents signed
December 2014: Notice to Proceed issued to Group Five
January 2015: Ground-breaking ceremony
November 2016: Completion & Handover of Collector Substation to GRIDCo
November 2018: Termination of the EPC Contractor's Engagement
10th June 2019 : Achievement of Commercial Operations Date(COD)